Age Verification
Posted by Jay on 19th Aug 2016

As many of you may already know, the FDA's deeming regulations went into effect on August 8th, 2016, and age verification is now a requirement on all online orders of covered vape products. Guidance from the FDA was not given as to what extent this should be done, but we have deployed the age verification services of Bluecheck Inc. on EVCigarettes.com
This service was chosen because their thorough verification process could very well become the industry standard. By completing a more accurate age verification, we hope to also safeguard online e-cig sales from further restrictions, or even a possible ban like the FDA was once considering. We strongly believe that online vape shops are crucial to providing vapers worldwide access to a wider range of vape products that may otherwise not be available at their local brick & mortar shops, so the loss of online sales could be just as devastating to the vape industry as the closure of local vape stores.
Bluecheck Inc.'s unique service will require you to enter a custom SMS Code sent to you via text message on your mobile device/cell phone each time you checkout to ensure any unauthorized person(s) cannot complete checkout on your account. Fortunately, it is a very simple and easy process that only takes a few minutes.
We sincerely apologize in advance for the nuisance of extra steps to verify your age, but truly appreciate your understanding in our efforts to keep our products out of the hands minors. Evcigarettes has been through many changes in the vaping industry as we are one of the few vape shops that has been open since 2009, and we fully intend to stay in compliance with state/federal laws in order to continue providing you with excellent customer service, fast order processing turnaround times, and a convenient avenue to obtain all of your vaping needs. Thank you for understanding and patience with our industry as a whole while we sort through all of this!
For details on the age verification process and a step-by-step guide, please continue reading on below.
---

WHAT INFORMATION WILL I NEED TO PROVIDE?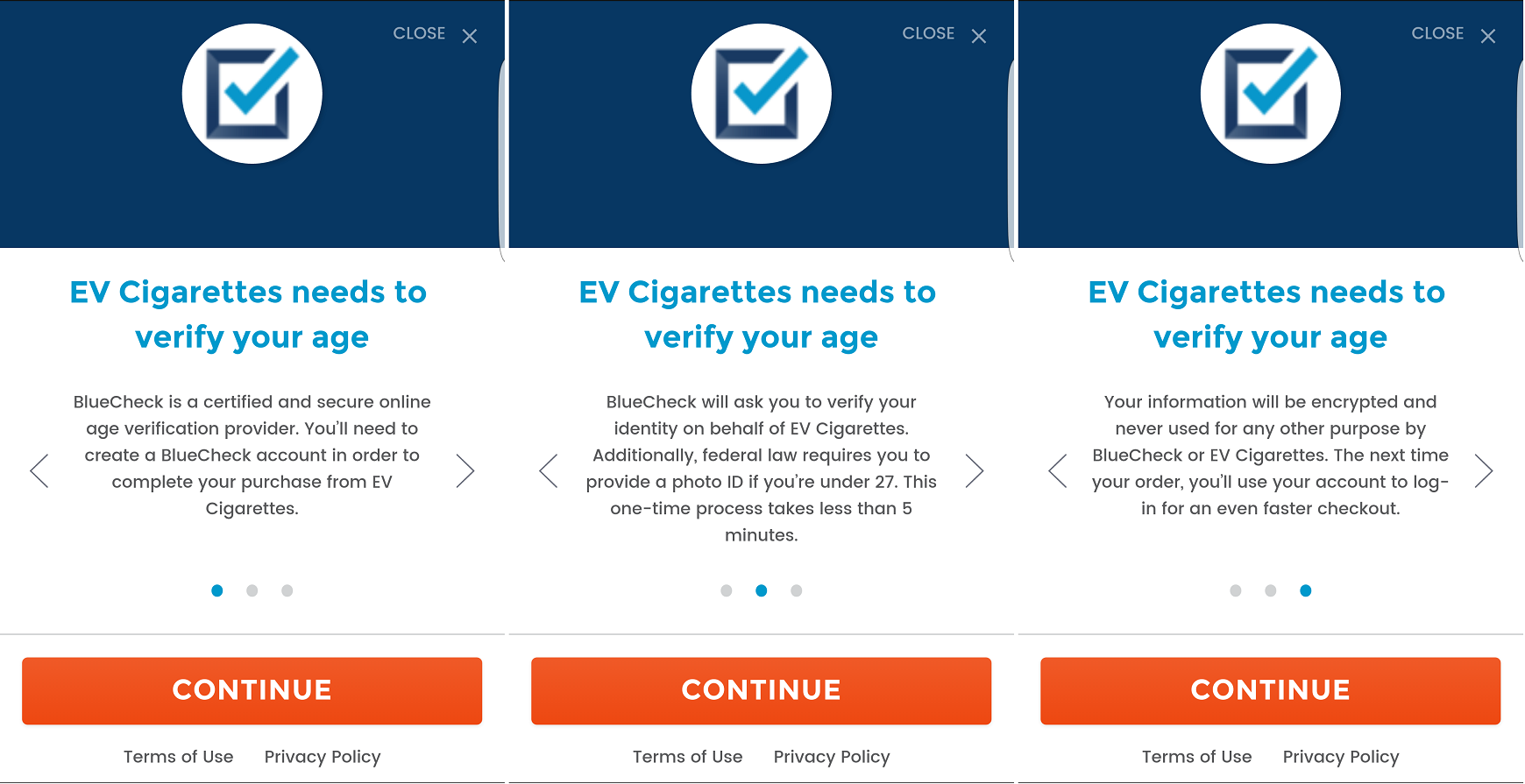 NOTE: If this is your first time ordering with us, we recommend creating an account first before checking out. Otherwise, you may encounter issues with the age verification system or with checking out in general.
During Step 4 (Order Confirmation) of the checkout process, you will be prompted with the BlueCheck pop up shown above. BlueCheck will ask you to verify your age and identity on behalf of Evcigarettes.com. Additionally, federal law requires that anyone under the age of 27 must provide a valid photo ID. This is handled in an additional 3 step verification process (see MANUAL VERIFICATION section at bottom of page). This one-time process takes only a few minutes. If you're over the age of 27, all that's required of you is your full name and date of birth. If BlueCheck is unable to verify your age at that point, they will then request a valid photo ID. Of course, your information will be encrypted and will never be used for any other purpose by BlueCheck, Inc. or Evcigarettes.com. The next time you order, you will verified automatically.
BlueCheck will pull the following information from your account with us, so please make sure it is accurate prior to proceeding to checkout:
Full Legal Name (First & Last Name)

Date of Birth

Mobile Number and/or Email Address
---
Below are sample BlueCheck screens where you will need to enter your information:
---
1) YOUR DATE OF BIRTH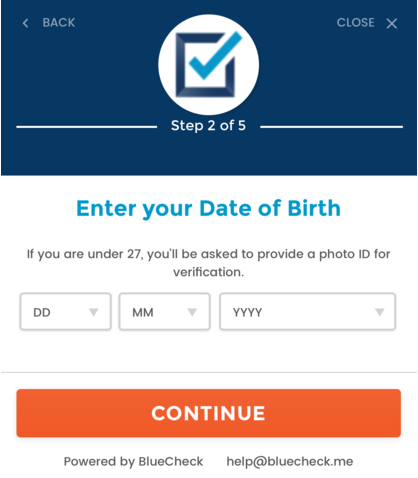 ---
3) YOUR MOBILE NUMBER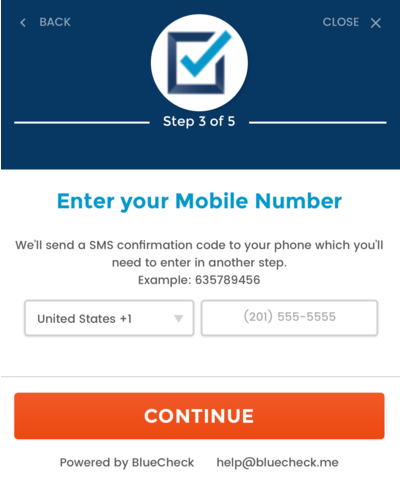 ---
MANUAL VERIFICATION
If you are under the age of 27 or if BlueCheck is unable to verify your age with just your name and date of birth, you will continue onto the next 3 step manual verification process. But don't worry, its very simple and easy to complete!
STEP 1: EMAIL VERIFICATION
You will need to enter in your email address to correspond with BlueCheck's 24/7 support team for manual verification. This is where BlueCheck will send the email to notify you when your verification is complete.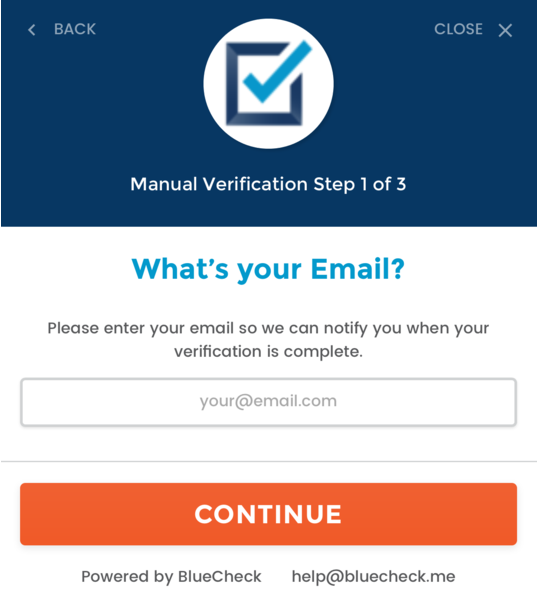 ---
STEP 2: UPLOAD A SELFIE WITH ID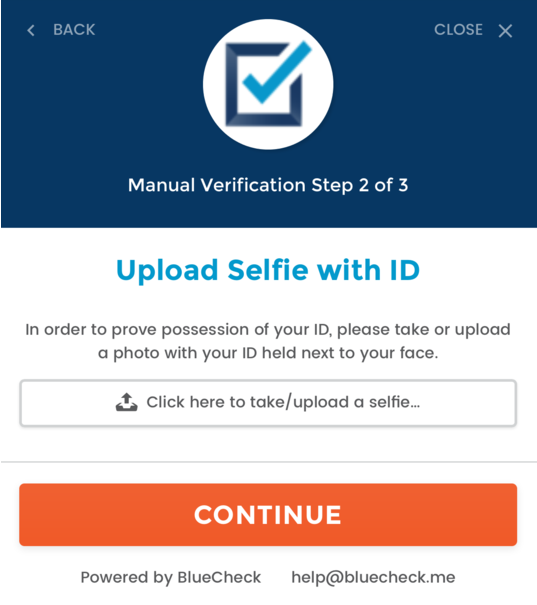 If you are using your mobile device, the BlueCheck system will prompt you to open your camera app or access your photo library. Simple, right?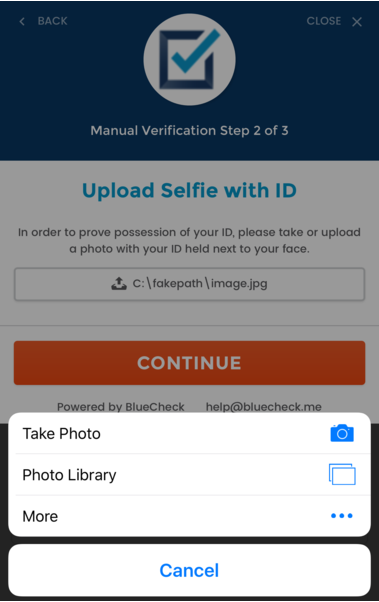 ---
STEP 3: UPLOAD PHOTO ID
The final step of the manual verification is to upload your photo ID. A separate photo of your ID is required so BlueCheck can visual confirm your name, date of birth and card's expiration date. Please make sure this information is clearly visible so that BlueCheck can confirm the necessary information. Otherwise, you may be asked to resend your photo ID.
Once this step is completed, you will be prompted with this screenshot below letting you know that your actions have been completed and to await your email verification.
---
STEP 4: APPROVAL
Once you have completed these steps, BlueCheck will email you to inform you if you have been verified or not.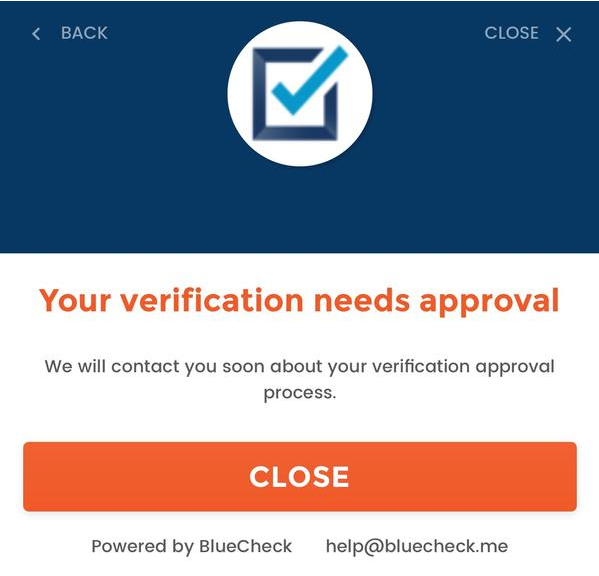 This should only take a couple minutes! BlueCheck's live 24/7 team will view your uploads to verify age. Once verified, you will receive an email with the subject title "BlueCheck Verification: PASSED." After you have received this confirmation, you will be able to proceed to checkout. BlueCheck will ask you once more for your name at this time and will immediately text you a 4 digit verification code to input and then you are done!
Remember, you will only be required to submit photo documentation just ONCE. If you are an existing customer who has already been previously verified, you will only need to enter your name and date of birth in order to receive the SMS Code by text. Easy as pie! (Although we admit we've never baked a pie ourselves.)
We at Evcigarettes.com are working diligently to comply with all of the FDA's regulations and this new age verification is definitely a major change to the checkout process. We kindly ask that you please be patient and keep in mind that you will only need to upload to BlueCheck one time.
---
DATA SECURITY
Any information you provide is used exclusively to verify that you meet the legal requirements to complete your purchase. Your information is secure and will not be shared with outside parties. The data for the last 4 of your SSN is wiped immediately upon verification and photo IDs are securely stored offline on an encrypted hard drive with BlueCheck, Inc.
IMPORTANT NOTE: You'll be unable to complete your order unless you successfully verify your age through BlueCheck. Additionally, any other e-cigarette vendor that uses BlueCheck will not require you to enter the last 4 of your SSN or submit photo ID once verified through BlueCheck with us.