Liquid E-Cigarettes | Enjoy Vaping Premium E-Liquid Flavors
Posted by EV Cigarettes on 13th Oct 2014
E-Liquid Companies to Watch
The liquid e-cigarettes rely on to produce flavorful vapor is overlooked far too often. Most people are aware that there are many e-liquid options available, but some don't bother to take advantage of them. These days, using just one e-liquid is kind of like eating only cheeseburgers every day! Of course, there is nothing wrong with having that trusty all-day vape, but there is a lot to be said for expanding your horizons and trying out some new flavors. If you are not familiar with today's e-liquid brands and their products, here is a brief introduction to some must-try companies.

E-Juice 2 Die 4
Yes, this liquid for e-cigarettes really is that good! This e-liquid company makes premium products that even the most demanding connoisseurs fall in love with. You definitely will not forget their Remember Me flavor, which features a classic sweet tart flavor with a hint of tangy pomegranate. Sing, Don't Cry is an ultra cool blend of refreshing watermelon and Hypnotic cocktail, that is impossible to resist. If you are a coconut person, you will find Eternal Love positively irresistible, as it perfectly blends soft coconut with banana, vanilla cupcake, and just a hint of toasted almond on the exhale. These bottles look awesome, they come with a metal charm, and the e-liquid is, as the name implies, to die for!

Suicide Bunny
Suicide Bunny is quickly becoming a favorite among experienced vapers. Try flavors like Madrina, which provides a gentle, multi-dimensional melon flavor with a cream base. Derailed tastes like freshly baked cookies with notes of cinnamon and banana on the exhale. O.B. is a secret recipe that delivers the ultimate in creamy, cake-like richness, and Mother's Milk is Suicide Bunny's signature juice, tasting like decadent custard with a strawberry exhale. Suicide Bunny is changing the way that people think about liquid for e-cigarettes. Experience for yourself how delicious a vape can really be with Suicide Bunny's exciting line.

The Standard Vape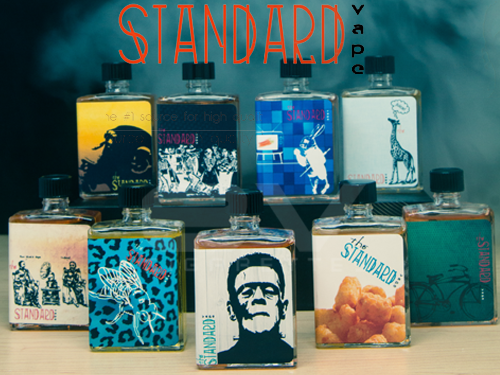 The first thing you will notice about this premium liquid for e-cigarettes is that the bottles just look downright awesome. Even if these e-liquids were not remarkable, they would be worth it just to collect the containers! Fortunately for vapers everywhere, The Standard Vape lives up to its aesthetics. Curious George is truly the quintessential banana flavor, blending the classic taste of banana runts with a smooth and creamy finish. G-35 is an exotic tropical fruit blend, featuring hints of mango, coconut, and pineapple, with just a hint of menthol on the end. Or, try Frankenvape, which successfully combines the tart sweetness of a kiwi with a marshmallow finish! There are plenty of others, so give them a try.

The Blueprint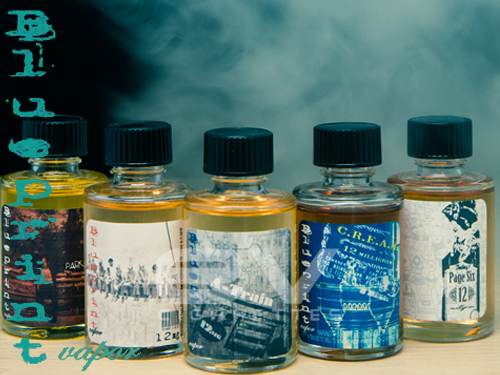 Like the other companies listed here, The Blueprint makes their enticing liquid for e-cigarettes right here in the USA, and they do a fine job at it. Unwind outside on a cool spring day with Page Six (raspberry green tea with a citrus punch), or consider enjoying some tropical vibes with the A-Train's pineapple and mango flavors. C.R.E.A.M. is a rich dessert flavor that brings to mind a Butterfinger McFlurry, with a soft and creamy twist. There are plenty of other fantastic flavors by The Blueprint, so choose the one that sounds best to you.

Get All of These and More from EV Cigarettes
We are thrilled to be able to offer the vaping community a one-stop shop for premium, USA-made, artisan e-liquids. You can trust us to carry only fine e-liquids that will make every single vaping experience a treat. Find your all-day vape, or just build your e-juice collection. Either way, we are confident that you are going to love these e-liquid brands, as well as the others we stand behind. Get the most value for your dollar and buy some new flavors today!