The FDA Flavor Fight
Posted by Mitch Clarke on 2nd Apr 2018
On March 20th, the FDA issued an 90-day Advanced Notice of Proposed Rule-Making (ANPRM) on the Federal Register site as well as Regulations.gov, requesting comments from the public over the next three months on their intentions to regulate the characterizing flavors found in e-cigarettes as well as all other forms of tobacco.
This means that the tastes and smells you've fallen in love with over the course of your vaping journey could all vanish in a puff of vapor.
This announcement comes as the next step to the ambitiously novel comprehensive tobacco reform first declared late last July by Head of the FDA Scott Gottlieb.
The previous step came in the form of another ANPRM that opened just last week and aimed at gathering comments on the FDA's plan to reduce the nicotine content of tobacco cigarettes—a plan that would equate nicotine's compulsive attraction to sugar rather than caffeine.
Not enough sugar in your cake means an awkward birthday party.
Not enough caffeine in your coffee means a full bladder as you compensate with even more coffee.
History Repeats Itself...Kinda
Since the Family Smoking and Tobacco Prevention Act was passed in 2009, flavors such as cotton candy, strawberry, vanilla, and even clove have been banned from cigarettes.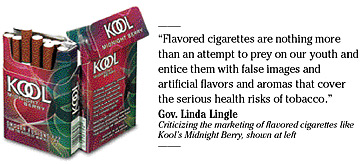 Was this done because these flavors take up a huge portion of the cigarette market? Well, no, not really—only one manufacturer, the small clove cigarette (and now "cigar") maker Djarum, held the vast majority of the flavored cigarette marketplace (97% to be exact) prior to 2009, mostly due to their signature clove cigarettes.
The menthol cigarettes sold by countless other cigarette brands took (and still retain by a long shot) the lion's share of the tobacco marketplace. Mysteriously, this was the one flavor agreed to by Phillip-Morris, Tobacco-Free Kids, and all other parties involved to getting an exemption from the ban, but that's between each of those parties and their (strangely ineffectual) consciences.
But now, e-cigarette flavors are under fire in a big way and there's nothing you do about it.
Kidding! But wasn't that scary?
No Comment? Yes, Comment!
Still, there is much you can do to avoid giving up the fight! Your first obvious option is the ANPRM's dedicated comment page, where you can leave a detailed message containing the "data, research and information that can inform [the FDA's] process for examining the role that flavors – including menthol – play in initiation, use and cessation of tobacco products."
It's clear that the FDA recognizes the powerful effect the flavors in e-cigarettes can have in assisting smokers as they reach complete tobacco cessation—or at least, the possibility of such an effect.
This recognition may play a large part in influencing the FDA's decision to ask for input rather than simply make big, bold moves to ban flavors as they did in 2009. However, they'll still need the input of the average consumer—that's you!—in order to make a fully informed decision.
As Gottlieb stated in his statement on the corresponding FDA memo, "...as a public health agency, it's important that we also explore how flavors, under a properly regulated framework that protects youth, may also be helping some currently addicted adult cigarette smokers switch to certain non-combustible forms of tobacco products."
"I've talked to ex-smokers, who've told me that they quit cigarettes altogether and that they now vape. And they've also told me it was the flavors that helped them make that transition off combustible cigarettes...these personal stories are important to me as we shape our overall approach to smoking cessation. And it's important to me that we uphold the FDA's responsibility to consider all sides and take into account, among other things, the risks and benefits to the population as a whole."


- Dr. Scott Gottlieb
So it's clear that flavors aren't being put on the chopping black right out of the gate, but our government needs a little convincing in order to make their decision to keep, ban, or merely regulate e-cigarette flavors.
The Topic At Hand
The FDA has a plethora of topics up for discussion regarding the impact flavors have on the entire spectrum of tobacco products, not just e-cigarettes; each bullet point is clearly worded in its request for additional information on a specific aspect of flavors in tobacco products, such as benefits for smoking cessation and risk of dual use.
The exact topic of each question tends to overlap with each other, but this is most likely to ensure replies with comprehensive and thorough rebuttals. Simply break down your reply by each section, stay on the topic of the question you're answering, and don't be afraid to use a reference in multiple places if it's still relevant.
The FDA wants to hear about "studies and other information" on topics like:
The role of flavors (other than tobacco):

Generally in tobacco
In initiation and usage of combusted & noncombusted tobacco
In noncombusted tobacco products on initiation or progression to use of other tobacco products
In helping adult cigarette smokers reduce cigarette use and/or switch to less harmful tobacco products
In noncombusted tobacco products on the likelihood of
Cessation of combusted and/or all tobacco products use
Dual use and/or delayed cessation of combusted and noncombusted tobacco
Relapse among former tobacco product users

The role of tobacco flavor itself in tobacco products
Which types of tobacco products or flavors should carry restrictions and why
The role that menthol plays in use of tobacco products other than cigarettes (e.g. cigars and ENDS)
Restrictions and requirements on access, advertising, promotion, label, labeling, and/or packaging
Flavors that especially appeal to youth, young adults, or other specific age group and how such flavors are distinguished from other flavors
Evidence that consumers would start to flavor their own tobacco products
Will Work For Cold, Hard Facts
In his accompanying message posted to the FDA website, Director Scott Gottlieb acknowledged the massive amount of personal stories he's heard while preparing to oversee the massive nicotine strategy overhaul first detailed in his public announcement on behalf of the FDA last July.
"I've talked to ex-smokers, who've told me that they quit cigarettes altogether and that they now vape," quipped Gottlieb, "And they've also told me it was the flavors that helped them make that transition off combustible cigarettes. Now I know anecdotes aren't the same as data. And the ANPRM specifically seeks data on this issue."
So feel free to leave your story in your comment to the ANPRM in a polite and enthusiastic manner—but you do have the world's entire supply of studies, surveys, and scientists at your disposal, all available at your fingertips through just a little Google-fu and reading. So why not use it?
Where to Begin
Some great places to begin crafting your response would be this blog post on the topic from the renowned Clive Bates, a longstanding proponent of sensible tobacco reform and fair regulatory standards for e-cigarettes, as well as the open letter from Iowa Attorney General Thomas J. Miller detailing potential regulatory paths to Dr. Gottlieb.
And if you've never used it, the PubMed and PubMed Commons databases on the NCBI webpage has nearly all publicly funded studies on record and available to the public.
Some studies are available to peruse in its entirety completely free of charge, allowing you to directly quote figures and data. But for most, you'll need to cough up $40-something in order to access the full report for no more than a single day.
There are rumors of a website that circumvents this paywall, allowing you to download the study directly without paying—thereby encouraging the free and untaxed distribution of universally beneficial information exactly as it should be in order to further the positive progress of human technological nd intellectual advancement—but who even knows if those really exist? **cough cough**
You can also participate in the online study created by Dr. K. Farsalinos, a prominent Greek cardiologist renowned for his clinical and laboratory research on electronic cigarettes. It's a short survey asking questions about how long you've been vaping, what flavor you enjoy most, which flavor you were using when you first started vaping, and other things of that nature.
Unlike other casual survey mediums such as SurveyMonkey, this survey is created through Dacima Software, a data collection management system used around the world for electronic data capture (EDC) with ePRO, data management for clinical trials, patient surveys and more! The results are specifically gathered in a way that is compliant with FDA's own data collection mechanisms and will be incorporated in further conversations with the FDA as well as the current ANPRM on flavors.
That's why it's crucial that we all not only participate in this survey, but also any other way we can! All it takes is 15 minutes of your time to help preserve the independence and autonomy from tobacco we've all pushed hard to achieve over the past decade. It's up to every single one of us to join in and help save this beloved industry before all of our favorite flavors disappear in a puff of vapor!
You can also stay up-to-date by checking in regularly with the many national e-cigarette advocacy groups around the country and on the web—they'll have plenty of upcoming information that will assist you in perfectly crafting your well-conceived response rather than a canned response that will only get canned.
But even if your response comes straight from King Albert, you should still show your support by submitting even a modest comment before the deadline on June 19th (aka Juneteenth, aka the life anniversary of yours truly).
The FDA needs to hear a ubiquitous and wide-reaching response that speaks to the facts. This is the ony way they can design a sensible form of improved tobacco regulation that remains fair to e-cigarettes—otherwise, the delightfully diverse and rich culture we've shaped over the past decade is at risk of dissipating like a wisp of smoke. We need as many of you as possible to take part in this process to help avoid the dismantling of our industry and the vapes that you know and love!