What Kind of Vaper Are You?
Posted by Mitch Clarke on 17th Oct 2016
As vaping has become increasingly prevalent over the past few years, innovations and trends in e-cigarette technology have given rise to a uniquely structured subculture of vapers: from the lowly office worker becoming intrigued with clouds to a suburban soccer mom discovering the joys of rebuilding, vapers rarely remain the same throughout their journey and oftentimes evolve into something entirely different. But that begs the question, how does vaping fit into your life and what kind of vaper does that make you? Take a look at this fun and educational guide to find what kind of vaper you are today, what kind you'd like to be, and what devices will make the most out of your skill level!
Beginner
Everyone has to start somewhere and for most, this is where their journey begins. A current smoker probably hears something about "this new vaping thing." They decide to try one of those e-cigarettes, just to see what it's like. After stopping by their nearest vape shop, the staff directs them towards something suitable for their experience level – something that's simple to understand, very affordable, and easy to use with effortless maintenance – allowing new users to become better acquainted with the ins and outs of e-cigarettes at a pace they find most comfortable.
At Home: Eleaf iNano Starter Kit
This all-in-one device makes vaping as easy as it was meant to be, reducing upkeep and maintenance to the occasional refill and coil head replacement. No extra batteries needed, by the way, just plug the included cable into any USB port for a refreshing dose of energy for your iNano mod.
On the Go: Eleaf iCare Mini & PCC Starter Kit
If the iNano is small, the iCare Mini is minuscule: this palm-sized device requires no buttons or settings at all – simply inhale and exhale to enjoy fantastic flavor and rich vapor. And the included Portable Charging Case recharges the iCare Mini while on the go in mere minutes, up to 7 times in a row, for unprecedented longevity and performance.
Accessories: iNano Atomizer by Eleaf
Considering its exceptionally low price point, it's perfectly reasonable to keep a few extra tanks for the iNano filled with different juices to swap out whenever you want something a little different than what you're currently enjoying.
Favorite Juice: Dekang
The high affordability, flexible mixture options, and massive variety of simple flavors are what most attract fans of this Chinese-based e-liquid. While these flavors will satisfy for now, curiosity over the appeal of "premium" juices will quickly urge beginners to try, and try again and again, the more complex and nuanced flavors of premium liquid brands.
Novice
A cursory Google search for "e-cigarettes" reveals a world of new options – so many options, in fact, it can feel overwhelming for a first-time researcher – but a few helpful beginner's guides assert that an upgrade to a sub-ohm tank and suitable mod will take their vape to new levels. And when their new setup arrives in the mail, they can't help but enjoy the open airflow, remarkable vapor production, and conveniently extended battery life of devices in the next tier of vaping.
At Home: Ohmega Mini 60W Box MOD, Kanger Toptank Mini
Building upon beloved past iterations of this tank, the Toptank Mini retains all of the features that made it the go-to atomizer for numerous vapers, such as adjustable airflow and excellent flavor production, and adds a convenient top-fill mechanism for even simpler refilling, which alongside the Ohmega Mini 60W will have you happily vaping away.
On the Go: Eleaf iStick Power Nano Box MOD, Aspire Nautilus X Atomizer
A very pocket-friendly marriage between two exceptional devices, the small stature of the iStick Power Nano and the leak-resistant features of the Nautilus X make this setup ideal for beginners seeking the perfect on-the-go vape.
Accessories: CoilART CTOCC Atomizer Head Kit, Aspire Nautilus X 4mL Adapter Kit
Taking premium coils where they've never gone before, the CoilART CTOCC coil heads utilize 15 different types of premium wires, fitting perfectly in the Toptank Mini to provide consistent flavor, vapor, and longevity infinitely better than the factory coils. And get a little [read: 2x] more useage out of your tank while on the go with this extension kit for the Nautilus X.
Favorite Juice: Cuttwood
Trying premium juices can be intimidating at first (so many options!), but starting with the big names can never steer you wrong. Cuttwood is one such renowned juice maker: since 2014, they've been making fan-favorite flavors like Unicorn Milk, an incredibly spot-on strawberry milk recreation, and Sugar Drizzle, a warm, sweet, and cinnamon-loaded pastry in a bottle, that quickly become the proclaimed all day vape of countless vapers around the globe.
Hobbyist
After having learned all of the basic facets of e-cigarettes, the novice takes their first steps towards becoming a hobbyist and for most, this is where a vaper's evolution comfortably stagnates. After having more than enough days spent simply trying different devices and new flavors, they have no desire to jump to the next level of RBA-oriented vaping, nor do they necessarily need to, as many vapers find themselves perfectly content with the devices found at experience level.
At Home: Smok TFV8 Baby Beast Tank Atomizer, Joyetech Cuboid 150W TC Box MOD
For outstanding vapor production and rich, flavorful vapor from a compact form, there's no sub-ohm tank more well-equipped than the Smok TFV8 Baby Beast. The wide open airflow and huge coil heads mean big clouds, but also remains throttled enough to condense outgoing vapor until it's thick, dense, and practically dripping with deliciousness. The Cuboid 150W is an ideal match for the Baby TFV8, providing a high wattage limit and long battery life from dual 18650s.
On the Go: Eleaf iStick 100W TC Box MOD, Crown 2 Sub-Ohm Atomizer by Uwell
Setting the standard for excellent performance while disguising the wallet-friendly affordability of these two devices, the iStick 100W and Crown 2 tank provide exceptional power alongside immaculate flavor and timeless functionality
Accessories: LG 18650 HE4 2500mAh Battery, NiteCore Digicharger D4 Battery Charger
Now that your go-to devices are powered by replaceable batteries, it's a good idea to start stocking up on some extras to have on hand for when your device is low on power. But for an easy way to make sure you won't unexpectedly run low on battery life, these LGs are a fantastic choice in a hobbyist's regulated device: sporting a generous 2500mAh capacity, these cells have the juice to run all day without so much as a hiccup, especially when you have two of these bad boys powering your device. And don't forget an external charger for your extra 18650s – this way, you'll always have some charged and ready to swap without relying on painfully slow recharging.
Favorite Juice: FRYD
At this point, don't be afraid to try the weirder flavors out there. Sure, they may sound odd, but there's a reason vapers love them. A great example would be FRYD, a lineup of flavors that begin with an modest flavor base like Banana or Oreo, then adds a rich, aromatic layer of savory goodness that can only be described as "deep-fried". Trust me, don't knock this addictive juice before you try it.
Rebuilder
While exploring the world of clearomizers and sub-ohm tanks, mentions of "RBAs", "rebuildables", and "DIY coils" will inevitably pop up, and promises of reduced maintenance costs, increased vapor production, and unmatched flavor may pique the interest of a vaping hobbyist. After becoming familiar with the necessary knowledge such as vaping terminology, building techniques, Ohm's law, and battery safety, the fledgling vaper emerges from their cocoon of kanthal and cotton as a fully fledged rebuilder.
At Home: Kanger DripBox 160W Starter Kit
This high-powered setup from Kanger makes learning to rebuild truly effortless and remains functionally relevant even as you evolve further as a vaper: simply use one of the replacement decks as a practice platform and as you increase in skill, keep a few builds on hand to swap out at a moment's notice. The Dripbox also eliminates the bothersome process of dripping by integrating a squonk bottle into the chassis of the device.
On the Go: Wismec Reuleaux RX 2/3 Box MOD, GeekVape Eagle Sub-Ohm Tank
GeekVape's Eagle sub-ohm tank uses a similar platform to the Dripbox RDA, but incorporates a tank that holds more than enough juice to have you vaping away for hours on end. And among many of the same useful features of past models such as up to 250W of power, the Reuleaux 2/3 provides the flexibility of choosing between the longevity of three batteries and the pocketability of a dual battery device.
Accessories: Wire, DIY Builder's Kit
Of course, you'll need some wire if you want to start building, but the question is what kind to choose? There's plenty out there: from kanthal to titanium, round to flat, the decision is only limited by your imagination and creativity. Kanthal for power mode is a great place to start, but if you'd like to try out the temperature control feature of your mod, nickel and titanium will work perfectly. If you're starting to question whether you already have all the necessary tools, the Coil Master DIY Kit v2 is a great way to ensure you'll have them close at hand without resorting to using your actual household tools – save those for the leaky sinks and home projects.
Favorite Juice: Epiclouds
Epiclouds' max VG formula is perfect for rebuildable platforms, providing thick, smooth, delicious clouds while remaining exceedingly affordable, making a rebuilder's accelerated juice consumption much more manageable.
Flavor-Fiend
Disillusioned with the allure of high wattage box mods and increasingly large clouds, the flavor-fiend doesn't need, or even want, a setup that is geared towards vapor production; what truly excites this brand of vaper is pure, rich, unadulterated deliciousness. Knowing their favored flavor palette like the back of their hand, nothing gets their blood pumping more than when they walk into a vape shop and see a new line of juices on sale, or when their favorite juice maker announces a limited edition release. Their go-to setup is oftentimes small and unassuming, but a quick test puff produces thick, dense, warm vapor with simply unbeatable flavor transportation.
At Home: LowPro RDA, Wraith 80W Squonker Box MOD Kit By Council Of Vapor
Get as close as you can to perfect flavor from the minute you install your flavor-oriented build in the extremely compact vapor-condensing chamber of the LowPro RDA. And forget ever having to drip again, too, thanks to the convenient squonker mechanism incorporated directly into the Wraith box mod.
On the Go: Digiflavor Fuji GTA (Dual Coil), Kanger KBOX 120W TC Box MOD
There are few RTAs better suited for impeccable flavor than the Fuji GTA: a clever fusion between a genesis and RTA, the Fuji's reduced build deck chamber condenses vapor from dual coil builds for intense and nuanced flavor from any juice you have in the tank.
Accessories: Premium Wire, VapeSox Juice Pouch
Trust me, no one makes their own wire anymore: save more of your time for building by using premade wire that brings all the flavor-popping joys of premium braided, alien, even SS fused Clapton coils to your vape -- all without any of the pregame effort. And make sure all of your juice is safe and close at hand with this high quality pouch from VapeSox that keeps your bottles neatly organized and protected from malicious bumps and knocks.
Favorite Juice: Duchess Reserve
Only the finest award-winning flavors are refined enough for your palate, and there are few flavors more expertly crafted than Duchess Reserve by King's Crest: this juice won best in class at Vape Summit not once, but twice, once each for the standard and reserve versions of their most popular flavor, Duchess.
Cloud-Chaser
Huge clouds and thick vapor are the name of the game for these performance-oriented vapers, and who can blame them? Constant experimentation with different types of heating materials, wires, coils, and builds keep them more than entertained when they aren't flashing the results of their hard work by blowing clouds that stretch across the room, whether it be at home or at cloud competitions. Having learned all they can about battery safety, cloud-chasers much prefer the flexibility of mechanical mods, especially those wired in series, but high-voltage regulated box mods have their own usefulness for exceptionally bulky builds.
At Home: Ohmega 26650 Stacked v2 Mechanical MOD, Ohmega Hybrid 31mm RDA
Whether chucking at home or in the face of the competition, what matters most in a setup to a cloud chaser is the power; when used together, there's no combination more powerful than the double-voltage Ohmega 26650 Stacked v2 Mech and Hybrid 31mm RDA. With the exceptional performance and battery life provided by the dual 26650 batteries alongside the huge build space in the 31mm RDA, all that's left is to throw in the biggest, craziest build you can think up and watch your opponents prepare for the incoming storm.
On the Go: VCST RTA by Vaperz Cloud, 26650 VCP "Big Pig" Series Mech Box Mod by Vaperz Cloud
Put some clouds back into the sky with this outside-friendly setup that simply chucks. The wide build deck, generous juice flow, and open airflow of the VCST RTA provides the perfect platform for the doubled-down voltage of the "Big Pig" to shine without overpowering.
Accessories: Coil Master 521 Tab Ohm Meter, Efest LUC Blu6 Charger
Make sure you're always testing your builds on an ohm reader! Most regulated mods have one built in, but when you're building for a mechanical mod, there's no way to make truly ensure complete safety beyond checking and double checking every single build. Plus, you can always know just how many batteries you have at the ready with the Bluetooth-equipped Efest LUC Blu6: by simply accessing the charger's phone app, you can see the current level of all the installed cells as well as adjust the charging currents to make sure your batteries are ready whenever you are.
Favorite Juice: One Hit Wonder
Taking into account pricing, volume, and deliciousness, it really and truly doesn't get any better than One Hit Wonder. Their high VG blends are perfect for coaxing thick, dense clouds out of almost any build, especially those of a cloud chaser, and the 180mL of premium-tier juice in each package (along with a handful of goodies) is more than enough to sustain even the heaviest of chain vapers for months on end.
Collector
Collectors are all about adding to their vast and ever-growing collection of all things e-cigarettes. You'd think their shelves upon shelves of mods, atomizers, coils, juices, and other such items -- arranged so they practically display a chronological record of the evolution of e-cigarettes -- would be plenty to keep them satisfied, but admittedly, devices are continuously made more advanced and feature-filled on a seemingly weekly basis, and collectors are always the first ones in line to get the newest devices.
At Home: Whiteout DNA 200 Box MOD by Cloudmaker Tech, Obese Buddha (LE) by Vaperz Cloud
The moment you pick up this match made in heaven, you'll fall in love with the ultra-clean design, unprecedented functionality, and envy-inducing rarity of both the Whiteout and LE Obese Buddha. The Whiteout DNA200's flexible customizability allows users to swap the panels for ones of a different color, such as red, purple, and even clear, or swap battery options from LiPo to 18650s, and an extremely healthy online community releases their own upgrades for this modular device. Not to mention the gold-plated Obese Buddha perfect for chucking clouds with style and feeling like royalty in your own home. For maximum effect, use while vooping to feel like a king on a throne.
On the Go: Silvanusa 70W Stabilized Wood Box MOD By Asmodus, 24K Gold Plated BFDFT RTA by CCI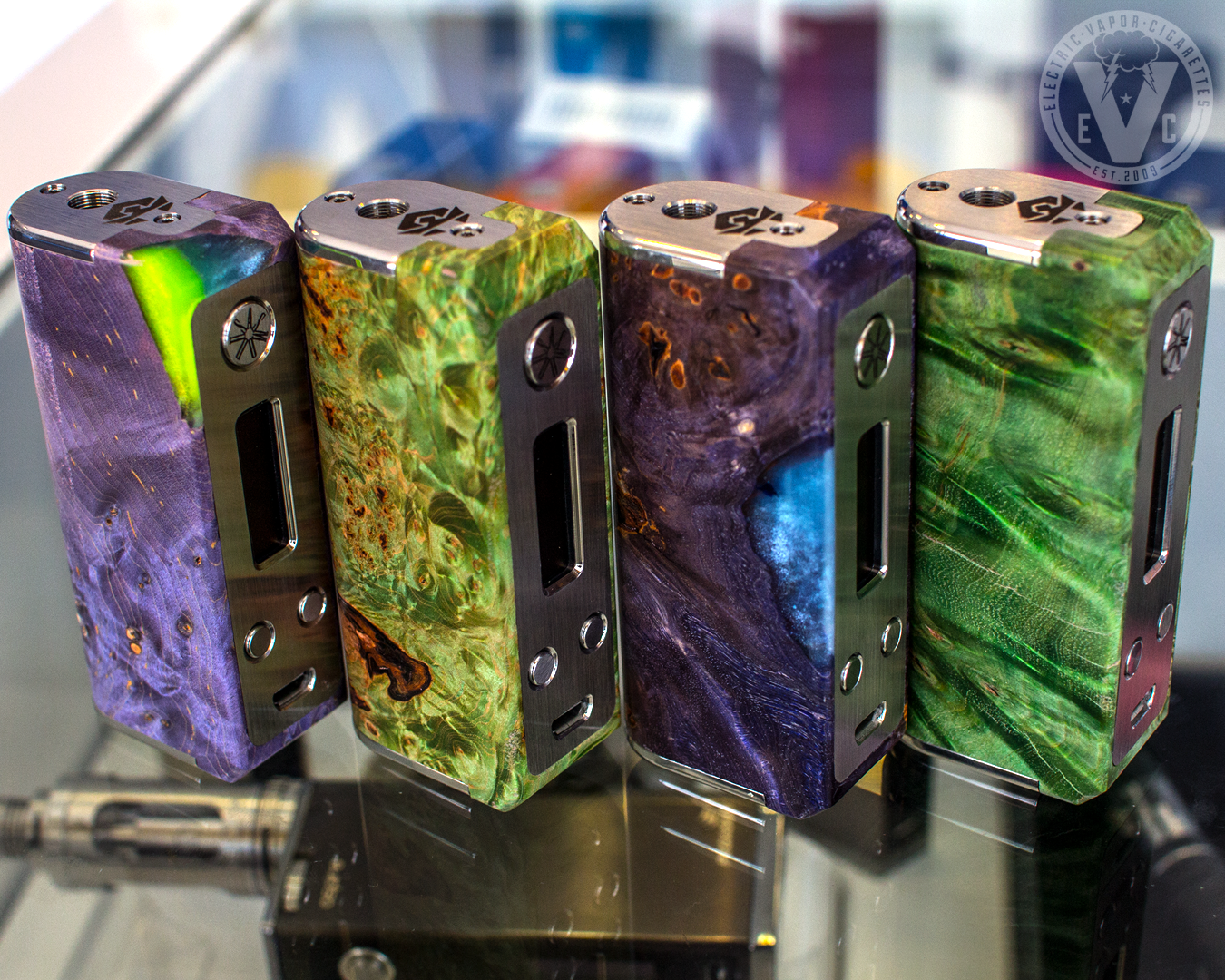 Give everyone something to be jealous of with this on-the-go setup. Designed to turn heads and garner stares, the incredibly colorful and vivid palette of the Asmodus Silvanusa is thanks to the stabilized wood body, which is much more durable and rugged than traditional untreated wood, providing an extra degree of insurance for your investment. And with the addition of the eye-popping gold-plated BFDFT, you'll have a one of a kind setup that fits in perfectly with the rest of your collection.
Accessories: Whiteout DNA Clear Panel Kit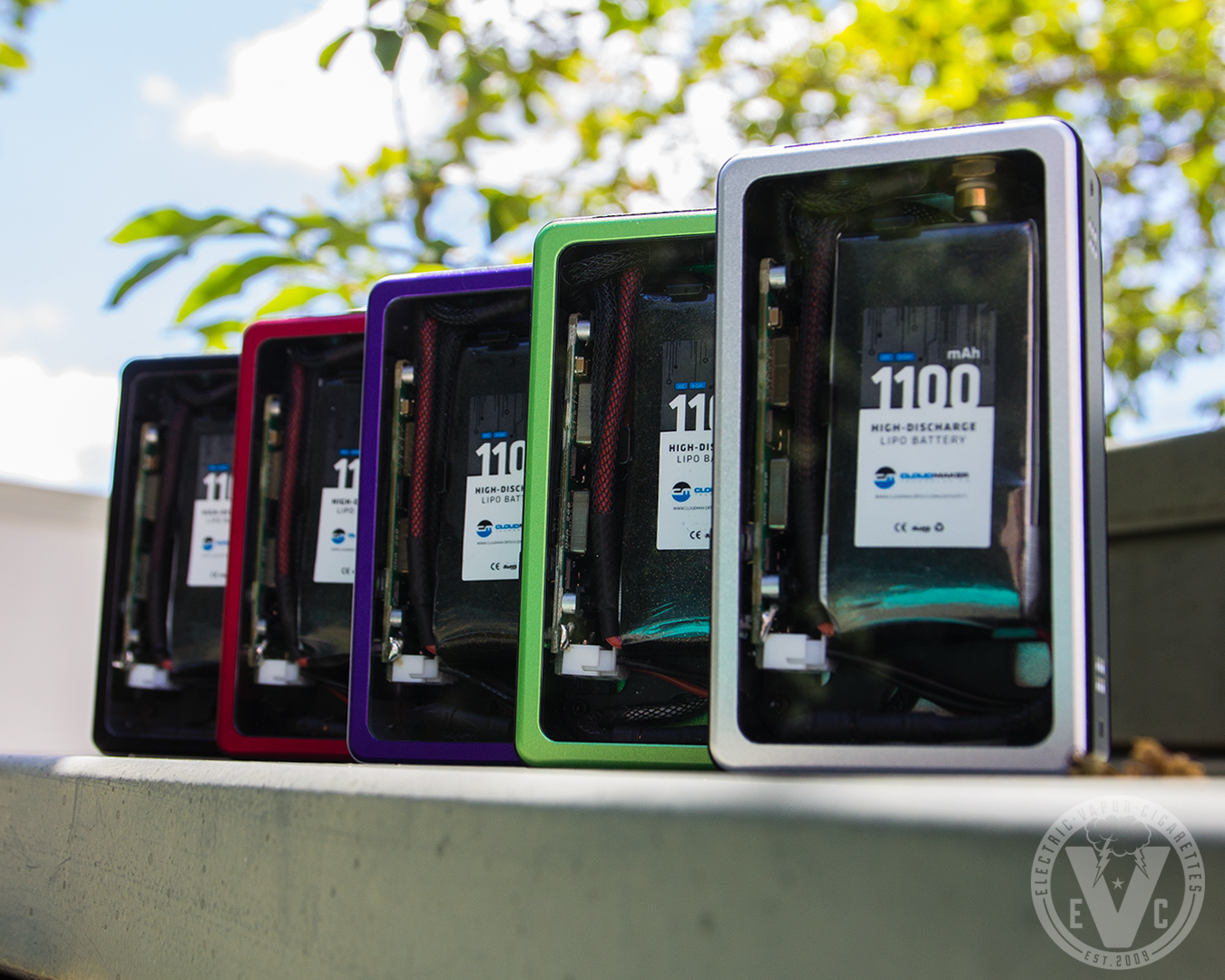 Whether you're going for a sick color scheme or just mix-and-matching, give your Whiteout an extra dose of class with these interchangeable panels. These also include a clear panel for showing off the interior of your mod while still keeping it pristine.
Favorite Juice: Phillip Rocke Grand Reserve - Crème De La Crème Summer '16 Vintage (9th Edition)
Enjoying only the rarest of flavors, collectors won't even touch a juice if it'll be around to see the following year, but if it looks like it will be around only for a short time, they'll quickly pick up a few bottles to enjoy until the next rarity is announced.
Clone Soldier
For a clone soldier, the struggle is so real. After paying for food, rent, bills, and other more pressing matters, funding an e-cigarette hobby is an afterthought and often goes unsupplied, much to their dismay. They may shake out every last drop of juices they don't even like, enter countless online giveaways, and very occasionally splurge on a $20 clone RDA released years ago. While the Clone Soldier would love to financially support the original manufacturers of their favorite products, after their own personal expenses, they can only hope to support them in spirit. Stay strong, Clone Soldier!
At Home & On the Go: Derringer RDA Clone by EHPro, SMPL Mechanical MOD Clone by A-MOD
The Clone Soldier keeps it simple, needing no fancy frills or expensive features to supplement their vaping – not that they could afford it anyway. The minimalistic combination of the A-MOD SMPL mech clone and Derringer clone by EHPro is a low cost setup requiring almost no maintenance whatsoever – aside from the occasionally rebuilt coil, that is, but going months on end without changing a coil is no new matter to the determined Clone Soldier.
Accessories: None
You do you, Clone Soldier.
Favorite Juice: Dekang
Dekang is by no means a clone, but as a juice with one of the lowest prices on the market, penny-pinchers will quickly fall in love with Dekang's price point and come back for the surprisingly enjoyable flavors time and again.